5-star surf lessons and rated #1 Huntington Beach, CA! Surfriders Academy Surf School offers the most fun, safe and memorable surf lesson experience of your life! We specialize in first-time beginner surf lessons. Safely enjoy the ocean and waves with confidence. Our friendly surfing instructors will have you up and surfing in no time.
We are open all year round to accommodate you with our world class surf lessons in Huntington Beach, CA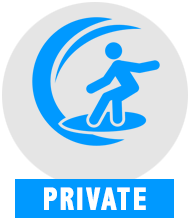 $139
Private lessons are recommended for first time beginners, ages of 5 years to adults. Intermediate to advanced surfers, and those who just want the extra attention. Your instructor will teach you step by step to from laying on your surfboard the correct way, and popping up to your feet or our easy way called the "knee slide to your feet" works every time!
$95 per person
The group lesson is one of the most popular lessons at Surfriders Academy Surf School. A group lessons consists of 3-4 students per instructor. Ocean safety and land lesson is given before we go in the water, this is good information to help make it a successful surf lesson for the student. Group lessons are recommended for first time surfers or just as a refresher surf class.
Call Us
We can accommodate large groups up to 20 to 50 persons and make it fun for everyone, must give us at least 7 business days notice before booking a surf lesson this size, Special pricing available.