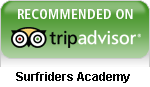 Here are some our testimonials from some of our students: We have been Rated #1 on Trip Advisor since 2009 in activities to do in Huntington Beach     Highly recommend Marcus!!"
Marcus is a great teacher, it was my first time surfing and he got me standing up in no time. He gave me the right advice in the right moments. I was in LA on holidays from France, and that was definitely a highlight!
My girlfriend and I were planning a trip to go surfing at huntington beach and we wanted a private lesson. I looked up surf instructors and found Marcus with Surf Academy. Marcus was amazing at teaching us how to surf. We both caught on very fast and it's all thanks to Marcus. Next time I am in Huntington I will definitely be giving him a call for another surf lesson.
My husband and I were first time surfers so we decided to take a private lesson. I googled places online and found Surfriders and we're glad I did. We met Eric, and his son Danial, at Seal Beach on Sunday morning and learned to ride the waves. It was a blast. Eric was a great instructor, very patient and had fun out there with us. Thanks for the great experience!!
Less 
Was this review helpful? Yes
Problem with this review?
Ask Leigh D about Surfriders Academy
Had an amazing experience with my entire family. Marcus was super patient, really clear on his instructions and overall made the entire experience great! My 18 year old was surfing on his own with 20 minutes and my 16, 14 and 7 year olds were all on their feet within 30 minutes and having the time of their life. Surfriders made the entire experience so memorable that we booked them 2 days later for another session and we all had a blast.
Less 
Was this review helpful? Yes
Problem with this review?
Ask Aaron R about Surfriders Academy
We booked our surf lesson today last minute and could not have been more pleased with the results. After getting good directions to Seal Beach, we met our instructor Ed at the beach. Right away, Ed made us feel right at home in his home town and got right to the instruction. After covering everything from safety to surf etiquette, we then moved to the water. Ed was just as excited about sharing the prospect of surfing to beginners as we were to learning. After a few practice runs, plus quite a bit of expected falls, my girlfriend and I both were able to stand up for legitimate surfing. Ed went through each fall with us, guiding small changes until we were both able to ride for a few seconds at a time. We can't recommend Ed and the surf school any higher for personal, effective lessons for any skill level. Learn to surf from Ed!
Less 
Was this review helpful? Yes
Problem with this review?
Ask MArbuco about Surfriders Academy
My buddy and I wanted to learn how to surf as it always look fun! Our instructor was Eric and he did an EXCELLENT job! Safety was their first priority. I guess while we were there, California was experiencing the biggest waves they had seen in 50 years. They called us the night before our lessons to inform us they were moving our lessons to a different beach with calmer waves. The waves were still bigger than they expected the morning of our lessons. Eric did a great job with us though. He taught us how to watch the waves and kept moving us around the beach if we started to drift or the waves got rougher in the given area. The value is great for the service you get. We did a 2 person group lesson. We were the only ones in the group. Other companies have you take lessons with larger groups. We loved that we were able to just do a private group lesson for no additional cost. Next time we go back to the OC, we will definitely be taking another lesson. Oh, and yes, I was able to get up on the board!
Less 
Was this review helpful? Yes 1
Problem with this review?
Ask BeachBumGuy85 about Surfriders Academy
I booked Surfriders after reading the positive reviews on trip advisor. Dealing with Marcus was easy. He calls/texts back, follows up, etc… I even had to make a night-before change in plans and he handled it without a snag. Pure professional. Our lesson was with Ed Morgan. Ed was just the best. He heard from Marcus that my son was coming and had never surfed before so he chose a beach that had smaller waves to make sure he'd have a good time. He started out giving us equal instruction time and then gave me enough to go out further and on my own a bit. He spent the majority of the time making sure my son surfed some waves and had a good time. It was fantastic seeing how good Ed was with him. I can't imagine a better instructor than Ed! I've read lots of good things about Marcus, but one of the best things Marcus has done is work with Ed! Thanks Surfriders from both myself and my 9 year old son!
Less 
Was this review helpful? Yes 1
Problem with this review?
Ask William S about Surfriders Academy
I have surfed a little in the past (in Texas, so take that as you will) but never had an official lesson so my bridesmaids took me to Huntington Beach for my bachelorette party! We were a bit nervous but Ed did a great job educating us on surf safety, pop up positions, and what to expect. He brought wetsuits that fit us perfectly (yay!) and two different types of boards (I love the Greco!). Out on the water, Ed was the picture of PATIENCE! We had a group of 4 so that's a lot of girls to babysit but Ed paid attention to each of us and made sure we had PLENTY of opportunities to catch waves. For beginners, Ed teaches you to ID the waves and assists in giving you a little push to make sure you've got the necessary
We vacation at Huntington Beach every few years. Two years ago, our boys had a surf lesson with Ed from Surfriders Academy. He was awesome and they learned so much. So since we were going to be coming to HB again, my husband was sure to look Ed up again so we could schedule another lesson. Ed is a fantastic teacher! He is kind and patient and explains things in a way you can understand. He paints the goal and the big picture but pays attention to detail and personalizes the steps you need to take to get there. He goes out of his way to get you to the right beach based on your skill level and the surf and he even helped us park. You won't find a kinder man in this town. If you are looking for a good day on the waves and someone who will individualize your lesson and take time with you, this is the place to call! We will definitely be back!!!
Less 
Was this review helpful? Yes
Problem with this review?
Ask BreGolden about Surfriders Academy
momentum. After each wave, we'd get immediate feedback – comments about what we could focus on for the next wave and, of course, a lot of CHEERING us on!! I felt like such a ROCKSTAR every time I caught a wave because I'd look back and see my girls and Ed hooting and hollering and fist-pumping 😀 One of my bridesmaids is a mother and she wants to fly her kids to HB just to have Ed teach them – no one else would do. I wholeheartedly agree 🙂 Thanks again for an unforgettable bachelorette surf experience, Ed!!
Less 
Was this review helpful? Yes 1
Problem with this review?
Ask Tiffani T about Surfriders Academy
the best!"
Our kids had the best time surfing this year again with surfriders academy !!!!!! They are truly the best in the area. Our surf instructor Ed is always so nice, patient and very gifted to teach children. In no time our kids were standing up on the boards and hitting the waves . We like this school for the wonderful spirit ( helping kids in needs and teaching them how to surf) and for the very pro attitude they show. They surf boards are really good and the beach where they leanr & surf very quiet and beautiful! Give it a try you will never be dissapointed!
Less 
Was this review helpful? Yes
Problem with this review?
Ask isabrasseur about Surfriders Academy
We (father and 18 year old daughter) had a surf lesson with Ed in July. We had a great lesson and learned a huge amount. The teaching was tailored to our experience levels and Ed was great fun, knowledgeable and very patient. He was really motivational and gave us both great tips and advice. My daughter has had several surf lessons both in the UK and the USA and she felt this was the best lesson she has had as Ed taught her about wave formation and how to read the waves as well as how to surf them. We both caught plenty of waves and had a fun time. We would highly recommend Ed and Surfriders Academy and will definitely be back again.
Less 
Was this review helpful? Yes
Problem with this review?
Ask Jules88 about Surfriders Academy
My wife and I went out with Eric at Sunset Beach. He was very patient and safety conscious. With his great instructions in and out of the water, we were able to stand up on our boards fairly quickly. My wife had a great time and would highly recommend Surfriders Academy and Eric.
Was this review helpful? Yes
Problem with this review?
Ask Steve L about Surfriders Academy
Our instructor Ed was a really nice and funny guy who was also a great teacher. I never thought surfing would be so fun.
Was this review helpful? Yes
Problem with this review?
Ask Liam B about Surfriders Academy
I tried surfing for the first time about a month ago in Hawaii. My travels brought me to Huntington Beach and I thought I'd try another lesson. I did a little research and the reviews for Surfriders all said the same thing: the instructors were good, people had fun, and safety was a priority. I booked a private Lesson with Ed. After a safety brief we headed out to the water. Ed did a great job gauging my skill level and tailoring the lesson to help me improve. He was encouraging, and his feedback was always on point. I had a great time, and will definitely book another lesson the next time I am in the area.
Less 
Was this review helpful? Yes
Problem with this review?
Ask Joe O about Surfriders Academy
My fifteen year old son experienced his first surfing lessons with Surfrider academy. We met up with Eric and he is such a nice and friendly person! He made my son feel very comfortable and it was all about having fun and enjoying the waves. All the time they were out in the ocean I was assured that Eric took safety very serious. My son had a great time, the smile on his face was worth a million! Thanks so much for this unforgettable experience!
Less 
Was this review helpful? Yes
Problem with this review?
Ask Nanthahala about Surfriders Academy